Optimal hospital logistics
LOGIA WMS expert advice
Surveys have confirmed that more than 30% of the costs in a hospital relate to hospital logistics. Therefore, several hospitals have implemented LOGIA, the warehouse management system, and other solutions for optimisation purposes. This resulted in less waste, increased efficiency, and more time for patient care.
The Central Warehouse
LOGIA controls everything in the warehouse from layout, locations, and inventory to an efficient handling of incoming and outgoing orders. The inventory is accurate, and all goods are handled correctly, whether sterile or clean. Orders are automatically prioritised and assigned to operators with proper competences, who will be guided through ideal routes of LOGIA's visual interface.
Special order goods, which are not included in the normal assortment, are registered in LOGIA, and given a temporary location, after which they are picked in context with the flow of standard goods.
Efficient Distribution and Repository Service
LOGIA controls the delivery of goods to different departments in a hospital, medical practices, treatments in private homes and more. Defect goods can easily be withdrawn with full traceability.
LOGIA collects the orders for each department and enables these to be delivered collectively. Thus, a great deal of time is saved while also the amount of internal transportation will be reduced. Urgent orders are prioritized ahead of everything else and are sent as an express delivery.
LOGIA can also manage ordering and delivering of goods to repositories and medical pass-through cabinets within the operating rooms. This service enables both single piece and opened orders, hence taking up less space in the departments and reducing waste as to the expiration date of the goods. The departments' orders are managed via the hospital's ERP- or electronic tag system.Goods delivered directly to operations can be traced by the patient's CPR-number.
Read more about Repository Service at Hospital Sønderjylland
Automation Optimizes Hospital Logistics
Hospitals can benefit from using automatic warehouse equipment such as vertical storage lifts and self-driven AGVs and AMRs. The latter are used for internal transport in the warehouse and departments within the hospital, whereas vertical storage lifts are used for compact warehousing of small goods of regular, sterile, and clean character. LOGIA is in full control of all automatic storage units and all goods within these.
Vertical storage lifts can be integrated into the hospital building with openings on different floors. As a result, goods and equipment are easily accessible to the different departments in the hospital and prevent taking up space in the departments.
See case: Efficient logistics in The New Stavanger University Hospital
Simple and Timesaving Hospital Bed Logistics
LOGIA is in control of the newest warehouse technology for storage and transport of patient beds. Bed storage lifts are embedded in the floors of the hospital building with openings, from where the staff receive clean beds and hand over beds recently used for patients. This enables the hospital to quickly replace the beds between hospitalizations and avoid beds taking up space in the hallways.
LOGIA administers the beds and ensures that clean beds are always available while also the beds recently used for patients are automatically dispatched to the cleaning area.
See case: Stavanger University Hospital
Watch Video: Hospital Sønderjylland
"The logistics in the hospital have experienced a massive improvement" - Hans Madsen, Warehouse Chief. LOGIA controls the entire flow of goods in the central warehouse of Hospital Sønderjylland and ensures that the high demands for hygiene, quality and expiration date are met. (Danish video)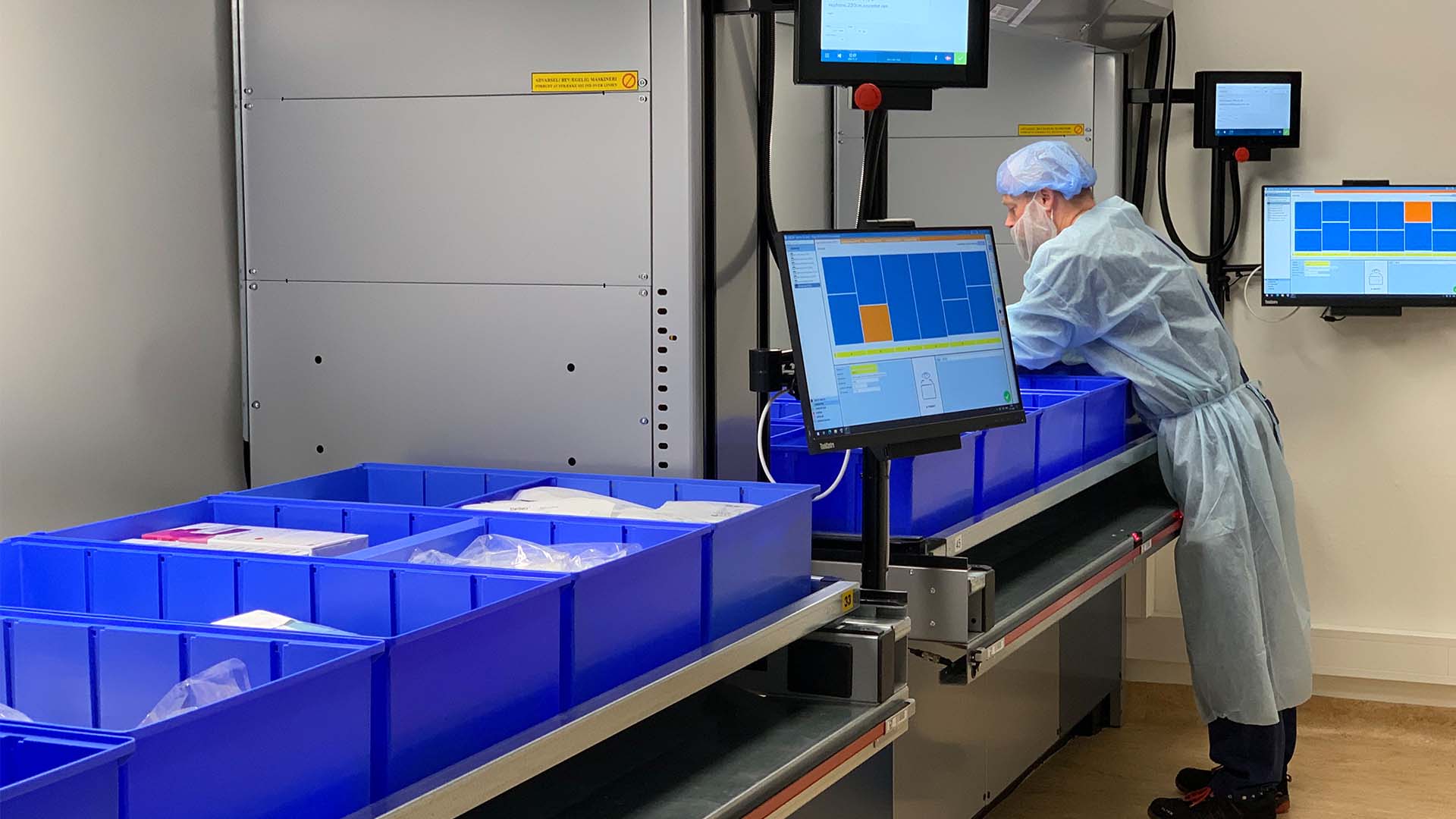 AGjkOdJO7gM
New LOGIA functionality strengthens the goods reception

Supervin's warehouse management yields impressive results

Besko boosts efficiency by 78% with vertical storage lifts and WMS
Want to know more about LOGIA WMS?
Explore further by scheduling a demo through the form or by reaching out to one of our experts directly. We're here to assist you!